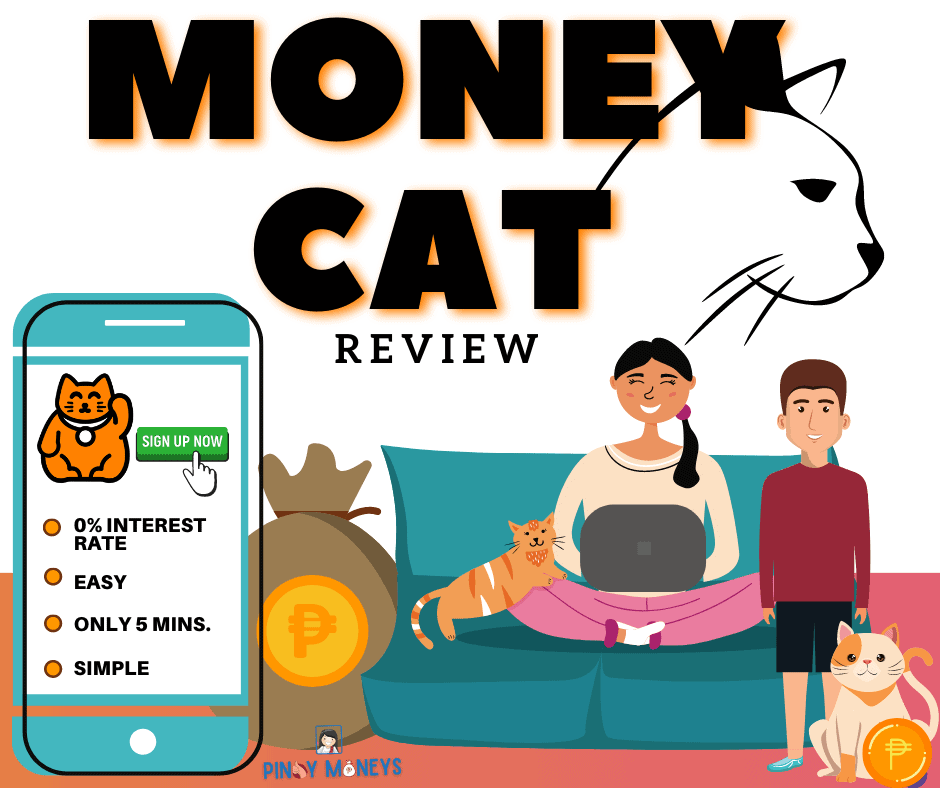 If you are looking for fast cash for an emergency? Moneycat loan service will get your back. And if you are looking for information about them? Well, here we are, and we got your back.
In this article, we will tell you all you need to know about MoneyCat loan service. Detailed information and guides will be provided, so don't close this page and read all the way to learn all those important pieces of information.
What will you know? Important information, like MoneyCat features, how to qualify, requirements, steps for applying, how to get your loan, how to pay, and so much more!
Without further ado, let's start breaking down that information. But, first, let us know who is MoneyCat.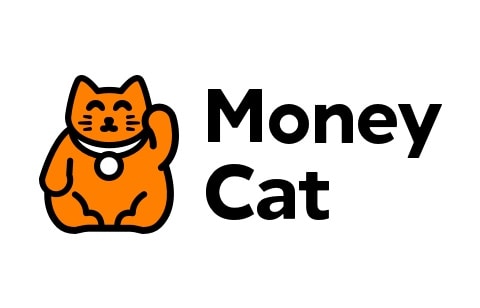 Who is MoneyCat
MoneyCat is an online lending company that aims to help and give assistance to our financial needs.
They established and built their company here in the Philippines to help Filipinos find a solution to their financial problems and survive daily expenses when the budget is limited. Their service is also available in Russia and Vietnam.
MoneyCat is an officially licensed financing company. With an SEC Registration no. of CS201953073 and Certificate of Authority no. 1254. Moneycat provided the following documents to prove that their operation here in the Philippines is legal and can be trusted.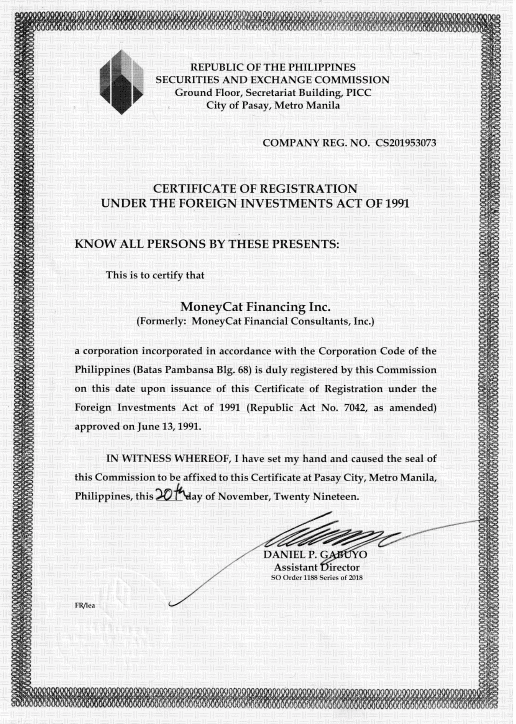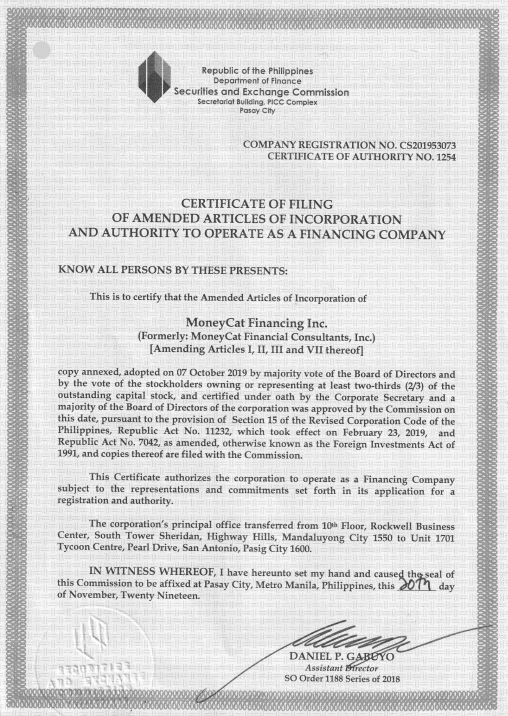 Moneycat makes it their mission to give a simple, fast, convenient, supportive, convenient, and safe service.
Simple, because the registration takes only 5 minutes here at MoneyCat.
Fast, because registration here at MoneyCat includes only four (4) easy steps.
Convenient since MoneyCat is a fintech company, which means their service is 100% online. No need to go out, and you can apply at the comfort of your home—a timely type of service, with Covid-19 still present these days.
Supportive because they always help their clients throughout the loan application process. They will also help remind you when you need to pay to remember and avoid paying overdue.
Safe, because MoneyCat ensures that they comply and operate under the Philippines law.
Does that make you interested in their service? Then don't stop reading. Other important details are still below. Let us start knowing them.
Moneycat Loan Feature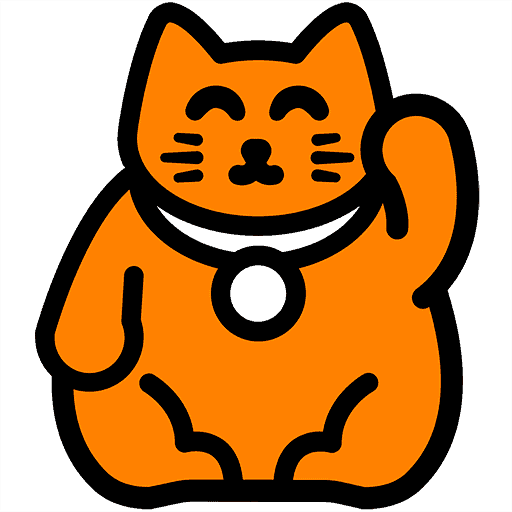 MoneyCat Loan Minimum – Maximum Amount
Here at MoneyCat, you can get a loan amount.
Minimum of P500.00
Maximum of P20,000.00
However, just like any other online lending, Moneycat also set a loan limit for all first-time borrowers. If you are a first-time borrower, you can only loan an amount.
Minimum of P500.00
Maximum of P3,000.00
They do this to build trust between you and them. If MoneyCat sees that you are a responsible borrower, rest assured that they will increase your credit limit. So pay on time and create a good credit history record.
MoneyCat Loan Terms
MoneyCat has a loan term of three (3) up to six (6) months, and this loan term is only applicable to all repeat borrowers.
Yes, you read that right. Here at MoneyCat, all first-time borrowers can't avail of that loan term yet. You can only avail of a seven (7) up to 14-day loan term, and it was implemented for all first-time borrowers.
It is also one of the reasons why MoneyCat has a credit limit on their first loan. They set that in order not to burden you with high payments with short loan term available.
But don't worry, just like your credit limit. MoneyCat will also increase your loan term period during reloan and if you leave a good credit standing.
Want to extend your loan term? You can! Here in MoneyCat they will allow an extension of your loan term. You only need to pay 7% of the current loan amount and the charges. You can see the exact amount on this link.
MoneyCat Loan Interest Rates
MoneyCat has an interest rate of 200% annually.
That means their monthly interest rate would be 16.67%, and the daily interest rate would be 0.54%.
Note: This information is indicative only. The final result of your interest rate will depend on the approved loan amount and tenor.
And guess what, here's some good news for all first-time borrowers. Moneycat has a special offer for you.
O% Interest rate on your FIRST loan!
Great! Isn't it? That only means you can enjoy your loaned amount at your first loan without the burden of paying it back with high interest.
Interest rates on online lendings are relatively high, like that of MoneyCat. If you are looking for a loan that offers a low-interest rate, you can try bank loans as an alternative.
Banks like CIMB Bank offer a personal loan with a monthly add-on interest rate as low as 1.12% up to 1.95%. On the other hand, HSBC offers a low monthly add-on interest rate as low as 0.65 per month. For more banks offer, kindly check our list here.
Also, take note that MoneyCat loan service has late payment charges. They will charge a one-time late payment fee of P500.00 per month, and interest may reach up to 365% annually in case of overdue.
That charge is pretty high and could be a huge burden to you. So to avoid unwanted payments and difficulties, make sure you pay on time. Taking a loan comes with great responsibility, so be a responsible borrower and settle your payables on due.
How to qualify for MoneyCat Loan Offer
To be eligible for the MoneyCat loan offer, you should meet these qualifications listed below.
Age must be between 20 – 60 years old.
Filipino Citizen (loan service not available for OFWs)
Must be currently residing in the Philippines
Employed individuals and selected professionals
That's it. So easy to qualify! Indeed a big help for Filipinos. Did you pass the eligibility test?
What are MoneyCat Loan Requirements
Here is what you need to prepare and present if you want to avail MoneyCat loan service.
Yes, that's it and nothing else!
And here's the list of accepted Valid IDs here in MoneyCat
Pretty easy, I know. MoneyCat makes it real when they said their mission is to provide easy and simple loan service for Filipinos.
How to apply for MoneyCat Loan
Since MoneyCat is one of those lendings that operates digitally. That means that their service is 100% online—no need to go to banks or offices and wait in long lines.
On these days were staying at home is the safest thing to do. MoneyCat loan service is the most convenient. And since this is online, you only need to prepare your gadget and ensure that your connection is stable to avoid interruption during the loan process.
Whenever and wherever you are, MoneyCat loan service can reach you as long as your device is connected to a network.
There are two (2) ways of applying here at MoneyCat. One is through their mobile app available at Google Play Store, and the other is through their website.
To apply through their mobile app, you need to download it first.
Click here to download MoneyCat mobile app.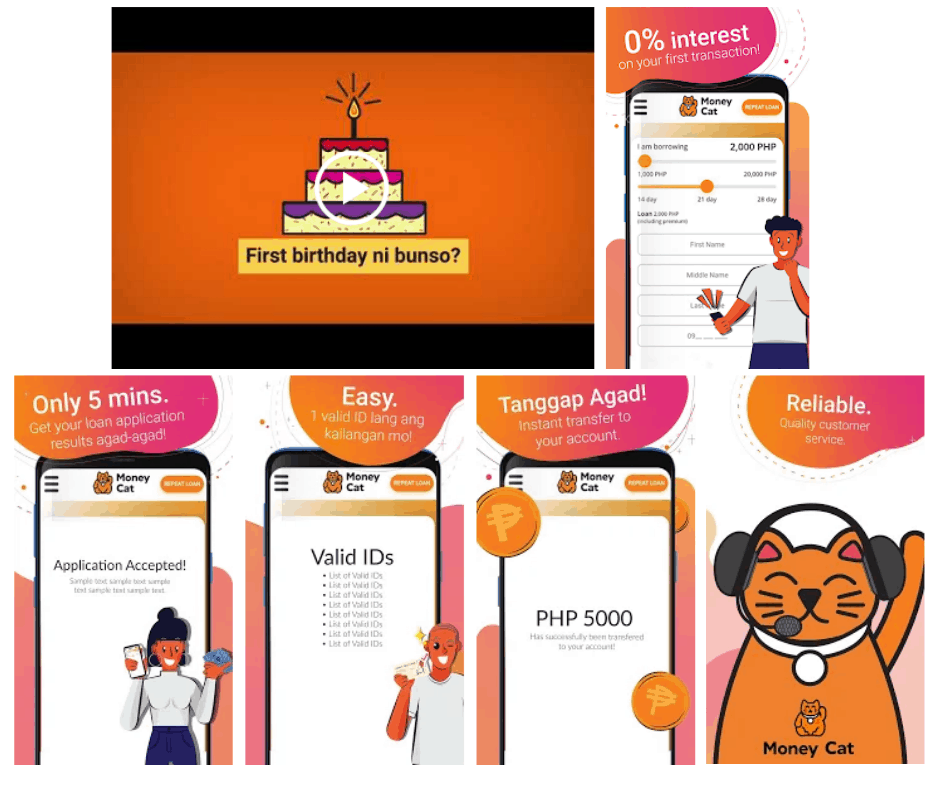 If you are not a fan of downloading an app, you have an option to apply for MoneyCat loan application at their website.
Applying to their website is considered safer cause you don't need to allow them to get access to your phone. Your data is safer this way.
If you want to apply at their website, kindly click here.
Regardless of where you would apply, MoneyCat shows only four (4) easy steps to get your loan.
Note: Before you start your application process, make sure that your internet/data connection is stable to avoid errors and delays.
Step 1 SIGN UP
You need to fill up the application, and this only takes five (5) minutes of your time. After you finish or at the last step of the application, MoneyCat will send you an authentication code (OTP) via SMS. Click CONFIRM after you input your OTP.
Note: Since MoneyCat will send an OTP to your mobile phone, make sure you are using your own and active mobile number to avoid future problems.
Step 2 CALL FOR APPROVAL
After you finish filling up the process, MoneyCat CSR will call you. This means that you shouldn't leave your phone unattended. MoneyCat will call anytime.
MoneyCat will call to give you financial advice and confirm the terms, conditions, contracts, and loan needs.
Make sure you understand their terms and conditions. If there is something that bothers you or you don't understand. Please don't hesitate to ask them. This could help to avoid confusion and future problems.
After the call, you need to wait at least 30 minutes for loan application approval.
Note: Due to Covid-19 and quarantine are implemented, you may experience delays in processing your loan application. During this time, don't forget to fuel up your patience. But if you think you have waited enough, feel free to contact MoneyCat Loan customer service.
Step 3 TAKE THE MONEY AND ENJOY
After you confirm the agreement and after the loan approval, your cash will be disbursed to your registered bank account within 24 hours.
At this part, during the filling up of information about your bank account, make sure that you have checked for errors and typos. A lot have already complained of not getting the cash after they get a confirmation of disbursement, which is mostly because of human errors.
So to avoid such a scenario, be careful and check your filled-up details.
Step 4 MAKE REPAYMENT
After MoneyCat loan service has done its part, make sure that you will do your part as well. Since availing of a loan comes with great responsibility, so be a responsible borrower and settle your payables on time.
Besides, you have confirmed the loan process, which only means that you have already evaluated yourself that you can pay off your loan, and you accepted MoneyCat terms and conditions on their loan service.
This part of the loan process is important for the company and you. You paying on time can help the company to keep going with their loan service. On the other hand, if lenders will see that you have a good credit history, it will not be hard for them to evaluate you and approve your loan.
A good to perfect credit history means fast approval.
When can you get the money after approval
MoneyCat will immediately send your requested amount to your bank account after confirming and signing the contract.
Unfortunately, as of now, MoneyCat only deposits loan proceeds to a bank account. It should be under your name, active, and shouldn't be opened for payroll transfer.
After that, you can receive the money depending on your bank. It may take one (1) up to (2) banking days.
If your loan application got approved during the night, you would receive your cash tomorrow morning.
If your loan application's approval takes place during the weekend, you will receive your money in the next working days.
This means you can apply for a loan anytime, but disbursement has its own time before you get it.
Below is the list of banks MoneyCat partnered with and where they deposit loan proceeds.
Banco De Oro
Bank of the Philippines Island
Chinabank
Eastwest Bank
MBTC
Philippine National Bank
RCBC
RCBC myWallet
Security Bank
Bank of Commerce
Chinabank Savings
Chinatrust Bank Development
Bank of the Philippines
Maybank
PBCom
Philippine Veterans Bank
PSBank
Robinsons Bank
Sterling Bank of Asia
How and Where to pay MoneyCat
You can pay MoneyCat loan through these payment channels.
7-Eleven
LBC
Bayad Center
SM Payment Center
GCash
Bank Cash Payment
For more information on MoneyCat loan repayment, you can click here or this one.
Note: If your payment due falls on the weekend, please pay earlier. MoneyCat may not process your loan payment during the weekend and may process it in the next working days. They might mark it as late payment and take note that MoneyCat has late payment charges. Your interest rate may increase!
Are you having trouble with payment postings? Have you already paid your loan but can't see it posted? Don't worry. It's not only you who had experienced such a case. If ever this will happen to you, do not hesitate to contact MoneyCat and tell them how they can help you.
Email: help@dragonpay.ph
Hotline: 0286556820
What do other people say about their service?
All of those who have tried MoneyCat loan service have different views and opinions on what they had experienced. And these are some of the reviews that they leave.
We chose both negative and positive comments to be transparent with MoneyCat loan service, and we also select updated reviews to give an up-to-date performance of moneycat.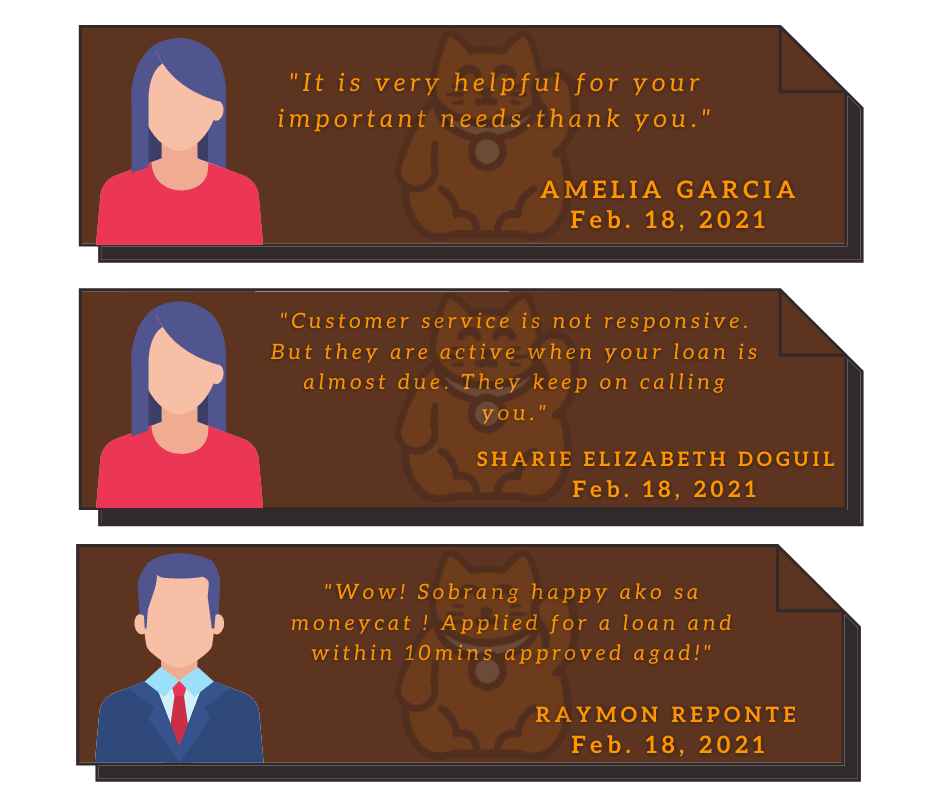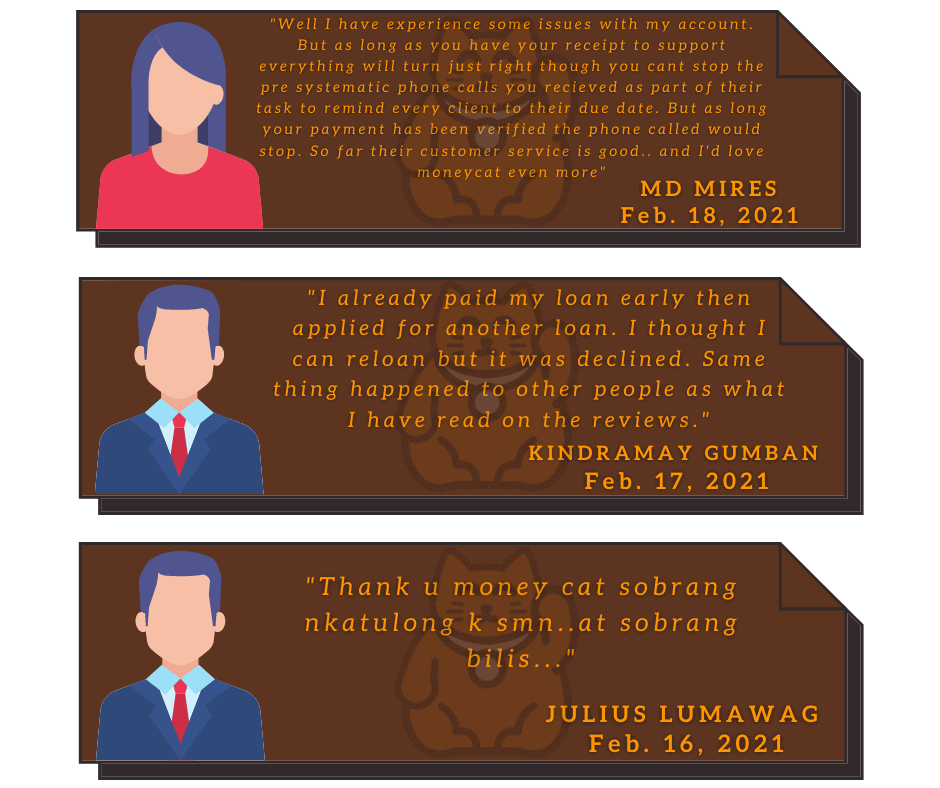 Have you tried MoneyCat loan service? We would like to hear from you too. You can leave your comments/review at the bottom of this page. Or, if you want to read more reviews, you can check out their mobile app review available at Google Play Store.
For queries, concerns, or feedback about MoneyCat loan service, you can contact them here.
PHONE:
Smart/TNT/SUN – 09190842139
Globe/TM – 09177108022/09172092204
EMAIL: support@moneycat.ph
ADDRESS: Unit 1701 Tycoon bldg Pearl Drive st. Brgy San Antonio Ortigas Center Pasig City, ph 1800
If you want your request handled with the highest priority by MoneyCat Customer Service, you can send it via a special form on the support page of your personal cabinet. Click here to open the support page.
Indeed, MoneyCat loan service is quite helpful for Filipinos who need fast cash. Not only did they make their qualifications easy for Filipinos to qualify, but they also made it easy for us to apply with their service available online and requirements easy to present.
Aside from MoneyCat, other online lendings also offer fast cash. Like Robocash, they have a minimum loan amount of P1,000.00 and a maximum of P25,000.00, and they also require a valid ID only.
On the other hand, Online Loans Pilipinas has a minimum loan amount of P1,000.00 and a maximum of P20,000.00, and just like Robocash and MoneyCat, OLP also only requires a valid ID.
For more list of online lendings that offer fast cash, you can click here.
Source: MoneyCat Website, MoneyCat Mobile App at Google Play Store
The best loans for you 💸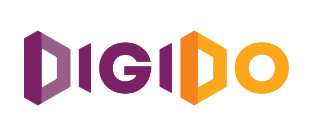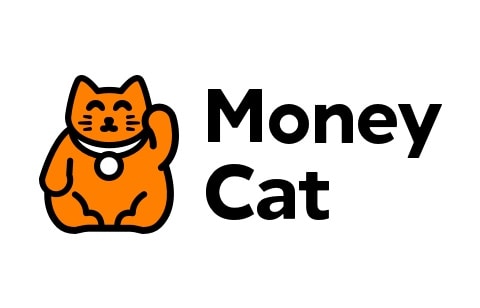 Repayment: Up to 180 days