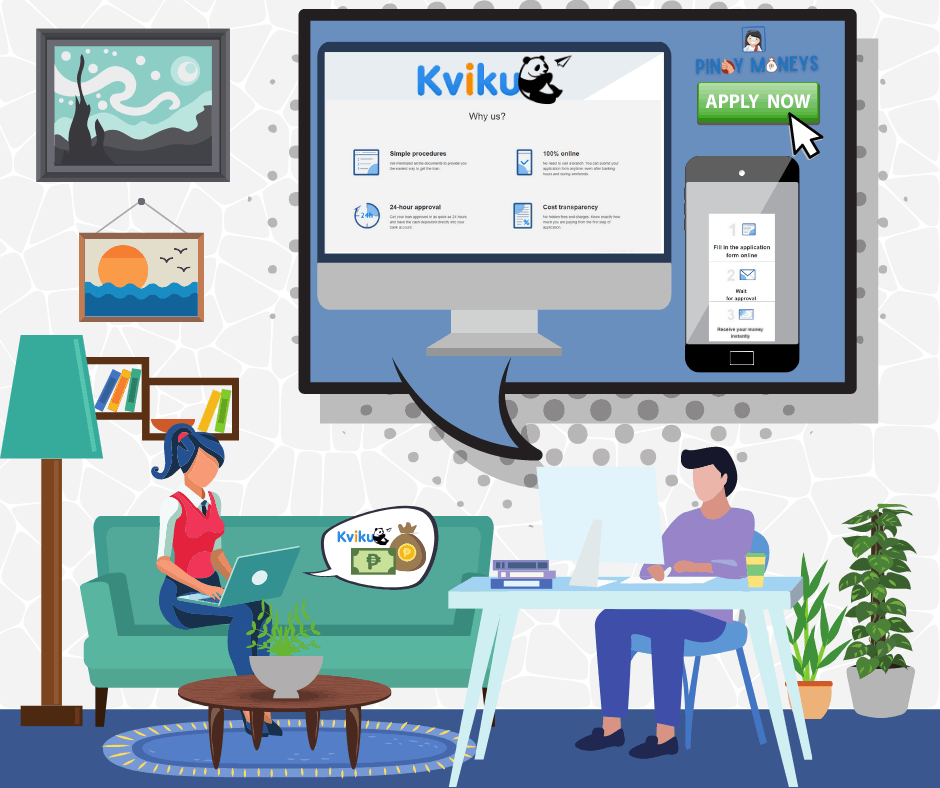 Company Name: Kviku Lending Co. INC
Kviku is a lending platform here in the Philippines with a service that is completely online. Kviku loan operates its service fully automated and without the help of a human operator.
Kviku loan can provide their service anytime and anywhere, so wherever you are and regardless of what time it is, even holidays and non-working days, you can apply for a loan!
Kviku is a legal online lending and is operating under the Philippines law. When you look at the official website of sec.gov.ph, you can see that they are SEC Registered.
They have SEC Registration No. CS201918702 and Certificate of Authority (C.A) No. 3169.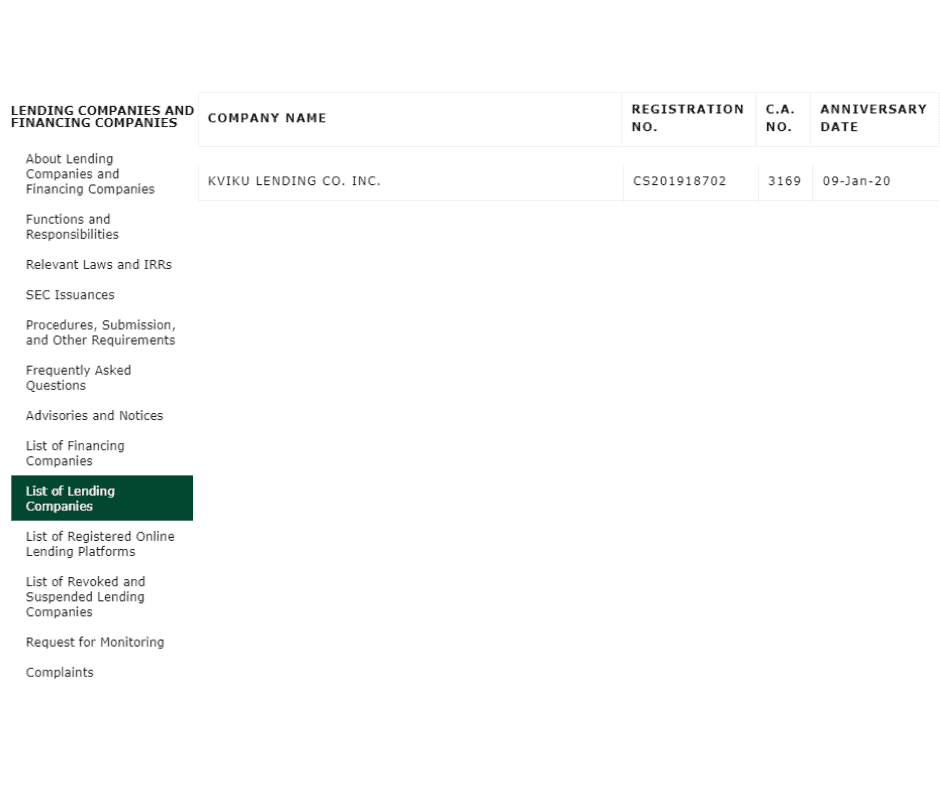 Kviku provides these certificates to show their proof of legitimacy.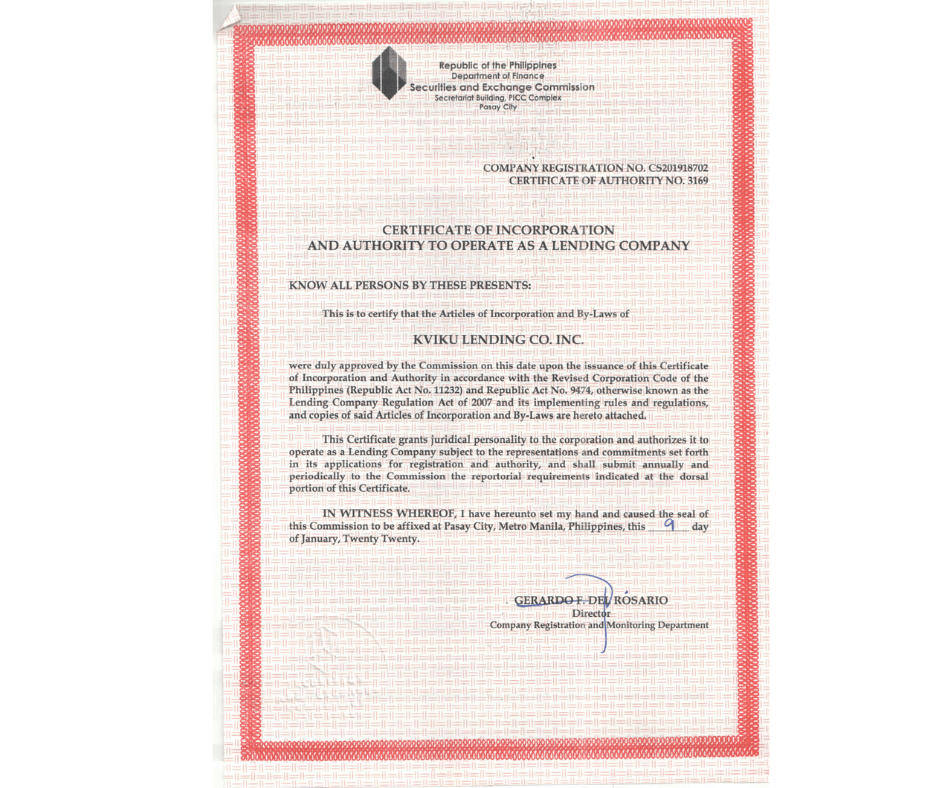 Kviku Contact Information
Website: Kviku.PH
Email: support@kviku.ph
Working Days: Their service is available 24/7, even on holidays and non-working days.
Customer Service: Available every 9:00 AM to 6:00 PM
Kviku Loan Feature
Kviku Loan Minimum – Maximum Amount
Here at Kviku, you can loan an amount with a
Minimum – P1,000.00
Maximum – P25,000.00
If you are a first-time client, you can't avail of that maximum loan amount yet, for Kviku will set a credit limit to you. To increase your credit limit and loan a larger amount, you only need to pay on time.
Kviku will automatically increase your available loanable amount after the payment of the previous one. But, only if you will set a good credit history record by paying on time.
Kviku Loan Term
Here at Kviku, you can choose a loan term with a
Minimum – 60 days
Maximum – 180 days
If you are a first-time borrower, Kviku will only approve you with a maximum loan term of 60 days. In comparison, repeat borrowers will have the advantage of availing of the maximum loan term of 180 days.
Kviku Loan Interest Rate, Fees, and Charges
Kviku has an interest rate of 0.16% per day.
Note: interest rate may change, depending on the approved loan amount and tenor.
Kviku provided a loan calculator on their website where you can select your desired amount and loan tenor by moving the circle button. Then you can see at the bottom the breakdown information of your loan, like the payment date and total repayment.
If you want to try their loan calculator, you can click check it here.
However, you must keep in mind that these may change, the approved loan product may differ from the customer's initial request.
How to be Eligible for Kviku Loan
To be eligible for the Kviku loan offer, you should meet these qualifications listed below.
You must be a Filipino citizen currently living in the Philippines. (This offer is not available for OFWs)
Your age must be at least 20 years old and not older than 55 years old.
Your mobile number must be active and not blocked.
You must be registered on the Kviku website.
Must have a bank account for disbursement (optional, but much better if you have)
From what you can see, it is easy to qualify for Kviku loan service. Indeed a big help for Filipinos looking for fast cash for emergencies. Did you pass their eligibility test?
Kviku Loan Requirements
When you apply at Kviku, you only need to present the following:
1 Valid Government Issued ID
What is the Valid Government Issued ID? Here are the following:
SSS
UMID
Passport
Driver's License
Postal ID
However, when you look at Kviku loan application, it looks like they only accept SSS ID as a Valid ID.
During loan application, it would also help if you can present supporting documents like the following
Payslip
COE
ITR
Company ID
DTI (if self-employed)
Although these requirements are optional, providing these will give you a higher chance of approval.
All repeat borrowers will have the benefits of being automatically approved, no need to fill-up the form and send requirements.
How to Apply for Kviku Loan
To apply for Kviku loan, you don't need to download an app. You only need to visit their website, prepare your gadget, and make sure you have a stable connection to avoid network errors and interruptions.
If you want to apply and try Kviku loan service, you can click here.
There are three (3) easy steps when you apply at Kviku.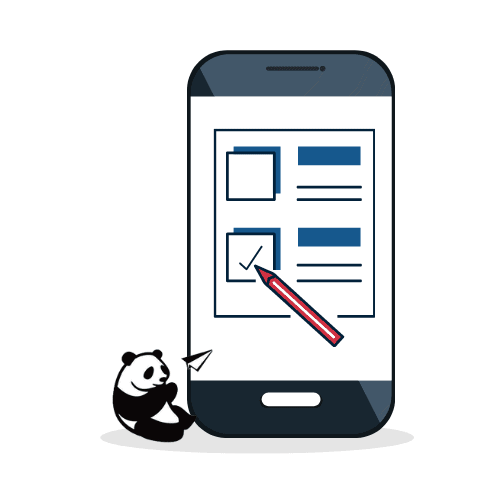 Step 1 Fill in the Application Form
Here you will input personal information like your name, birthday, sss number, email, and phone number.
You will also input your Confirmation Number and Money Transfer Information.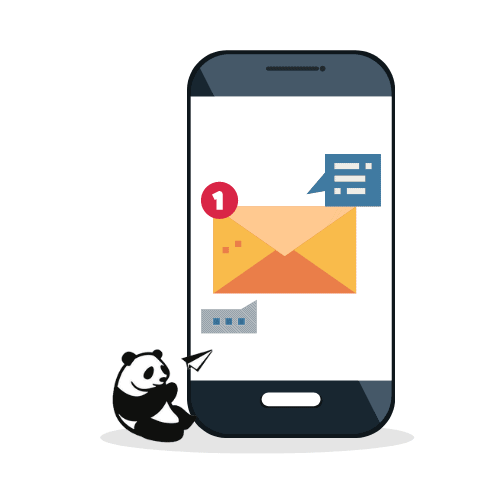 Step 2 Wait for Approval
After the registration and sending of your loan application, you will receive an SMS with a decision if your loan application is approved or rejected.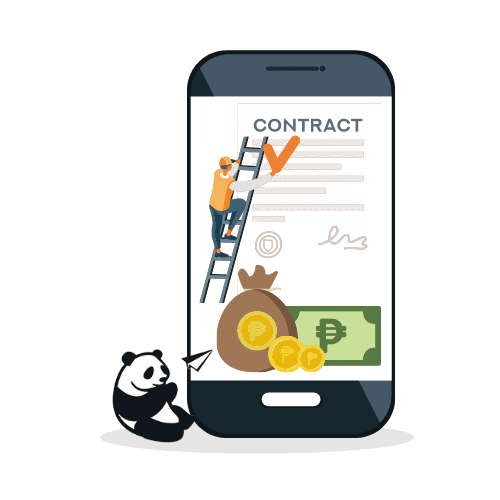 Step 3 Receive your Money
If your loan application is approved, Kviku will send you your code via SMS. Simply enter the code to confirm the contract.
After confirming the contract, Kviku will transfer the money to your bank account within 60 minutes.
Note: During filling up of loan application, make sure you answer HONESTLY and enter correct, valid, and accurate information. Any invalid or incomplete information may result in the rejection of your application.
Want to cancel your loan application? Yes, you can. But only before you confirm the contract.
If your loan application is approved, but you haven't confirmed the contract yet (by entering the code Kviku sent), then you have an option to cancel the loan application. But if you have already confirmed the contract, then you can't go back and cancel the loan application.
Note: Make sure you double-check the information you enter to avoid future problems.
When and How can you Get the Money After Approval
As we have said earlier, after the approval and after you enter the code to confirm the loan contract, Kviku will send your cash directly to your bank account.
However, crediting the funds may take some time. Transactions may take up to 2 days, depending on the receiving bank you choose.
You can receive the funds during working hours – from 8:00 AM to 4:00 PM during weekdays.
If your loan application got approved during the night, you would receive your money tomorrow morning. And if your loan application got approved during weekends, you can receive your cash on the next working day, which is Monday.
Aside from bank as a disbursement mode, Kviku also has an option to cash out on Cebuana Cash Pick-ups, where transaction of funds will not take more than 24 hours.
During filling up the information on your disbursement, it is important always to double-check the information you enter. An incorrect word or even a single letter may cause a big problem like not receiving the money even though your loan application got approved, which would be a waste.
If this will happen, the money will return to Kviku within two (2) weeks, and your loan will be canceled. In this case, you need to apply again and fill up a new application.
To avoid such a scenario, be mindful and always check the information you enter before proceeding with the loan.
How and Where to Pay Kviku Loan
You can repay via bank card or cash.
If you want to pay via bank card, just follow these steps.
Go to Kviku website and click the "PAY" button.
Note: Make sure you have signed-in at the website to see your payment details and loan information.
2. Enter your card details
Three-digit code on the back of the card
3. Enter the SMS confirmation code Kviku sent to your number.
If you want to pay via cash, just follow these steps.
1. On your profile at Kviku website, click the "PAY BUTTON."
2. Next, click "BANK TRANSFER."
3. After this, bank details will appear in a new window, and you need to fill in the information.
4. You can pay at any nearby branch of your chosen bank.
Note: Since bank transfer may take up to 5 days, you must send proof of payment with the transaction date. You can email your proof of payment at Kviku email (provided above). It would be best if you did this to avoid inconvenience or to prevent delays in your repayment.
What do Other People Say About Kviku Loan Service
These are some of the feedbacks who have tried Kviku loan service.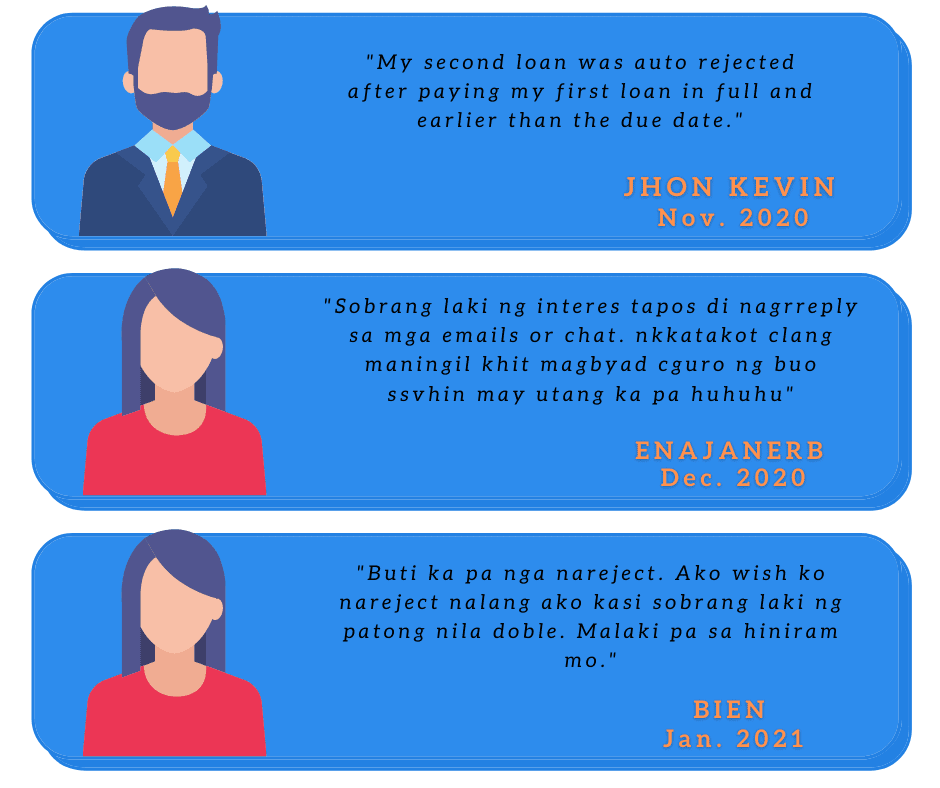 Their experience differs, and it may not be the same with you too.
Most of the fuss or complaints on Kviku loan service is that they have a high-interest rate (which is common with other short-term online lendings), and it is hard to avail a reloan. But, aside from that, their experience also shows that it is legit that you can take a loan at Kviku.
If you consider trying Kviku loan service, we suggest you do further research about them and think twice before proceeding with the loan.
Have you already tried Kviku? Why not share with us your experience? We would also like to hear from you. You can leave your review in the comment section at the bottom of this article.
Loan Alternatives
Aside from Kviku, other online lendings also offer fast cash. They also only require a Valid ID, and it is easy to qualify for a loan. These are the following.
For more list of online lendings that offer quick cash, you can check it here.
If you are looking for a loan offer where you can loan higher amounts, you can try Banks Personal Loan as an alternative. The following banks offer high loanable amounts with low-interest rates and long terms. You can also check them out.
For more list of banks that offer personal loans, you can check it here.
Source: Kviku Website
The best loans for you 💸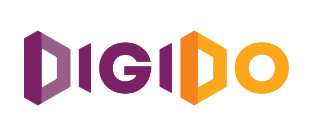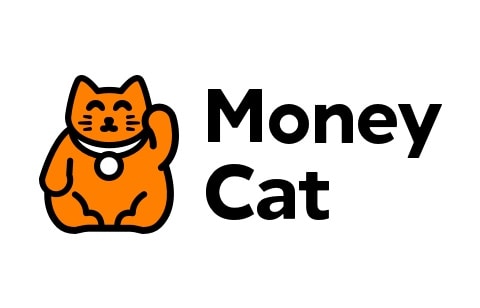 Repayment: Up to 180 days