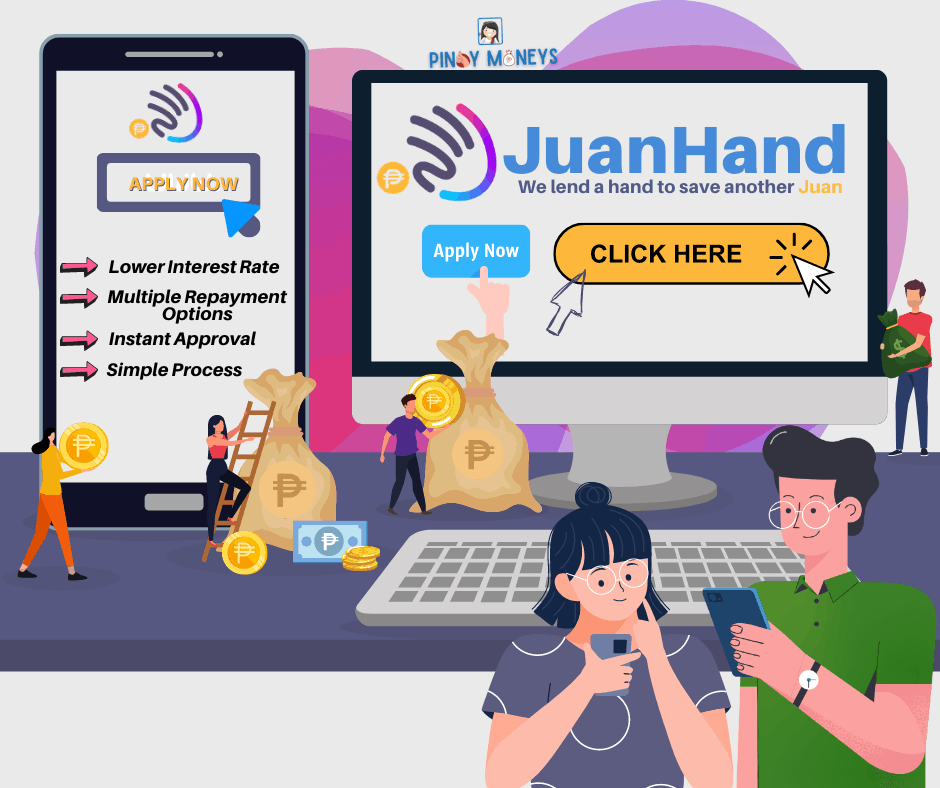 ---
---
Are you here cause you are looking for information about JuanHand online loan service? Good for you, you landed in the right page!
In this article, we will tell you all you need to know about JuanHand Online Loan service.
All pieces of information about JuanHand Online Loan service are provided below. Such as their terms and interest rate, requirements, the application process, users review, how to qualify, and so much more.
Are you excited to know all that information? Then start scrolling and start reading!
Who is JuanHand
I know you might think this part is a little unnecessary, but we can't proceed without knowing the basics. But don't worry, in order not to bore you. I'll make it brief and short.
So who is JuanHand?
JuanHand is an online lending platform here in the Philippines that provides financial services through technology. A timely type of service, especially during this pandemic.
JuanHand started their business here in the Philippines in June 2019. They are legit and legal, with an SEC Registration number of CS201825672 and Certificate of Authority No.2844. JuanHand ensures that their service is safe and can be trusted.
With a slogan, "We lend a hand to serve another Juan." JuanHand makes it a mission to give a helping hand to Filipinos, especially in times of their financial need. They made this by making their loan application available for use for all Filipino citizens.
JuanHand Loan Feature
JuanHand Online Loan Minimum – Maximum Amount
Here at JuanHand, you can loan an amount
minimum of P2,000.00
maximum of P12,000.00
However, Just like other online lendings, JuanHand online loan also set a loan limit for all first-time borrowers. They do this to see if you are capable and how responsible you are when it comes to paying loans on time.
All first-time borrowers can only borrow a maximum amount of P2,500.00.
If you maintain good paying habits and they will see that you are responsible and can be trusted. JuanHand will update the amount and will guarantee you a higher loanable amount.
Online lending that offers fast cash like JuanHand offers loan amounts only for emergency needs. If you are looking for a higher amount cause you need to fund something big, then try bank loans instead.
For example, CIMB Personal Loan offers a minimum of P30,000.00 up to P1M as a maximum. Maybank, on the other hand, offers a minimum of P50,000.00 and a maximum of P1M. You can also check out this list we made of Banks that offer personal loans, and you can even apply online!
JuanHand Online Loan Terms
JuanHand Online Loan has a loan term of three (3) months up to six (6) months. However, all first-time borrowers can't avail of that loan term yet.
If you are a first-time client of JuanHand, you can only avail of a 7-day loan term, and it was applied for all first-time borrowers. But if you will pay on time and leave a good credit history, rest assured that JuanHand will increase your loan term at your next loan.
A short loan term is actually the typical case for all online lendings that offer fast cash, seven (7) days is the shortest. If you are looking for online lending that offers quick cash with longer terms, you can try Robocash as an alternative. Robocash offers a 14-day loan term. You can also try TALA, which provides a one (1) month loan term for all first-time clients.
You can also check out this list we made of online lending that offers fast cash for more options. Important details about such online lending are also provided.
JuanHand Online Loan Interest Rates
JuanHand online loan has a maximum annual percentage rate (APR) of 20%.
Take note that several factors influence the interest rate of JuanHand. Depending on the type, the purpose of the loan, loan amount, and loan tenor. These show that there will be a different interest rate that depends on the said factor.
Availing of fast cash is quite helpful, especially if your budget runs out and you are trying to survive for a week. However, some online lending has a relatively high-interest rate like that of JuanHand. So make sure to study their terms and conditions before proceeding with the loan.
But if you are looking for a loan offer with a low-interest rate, you can try Bank Personal Loan as an alternative. We made a list of banks that offers personal loan with fair interest rate.
How to qualify for JuanHand Online Loan Offer
To avail JuanHand loan offer, you should meet these qualifications listed below.
A Filipino citizen currently living in the Philippines
Your age must be between 20 years old and not older than 60 years old.
One (1) government-issued ID
You must have a stable income source.
Yes, one of the advantages of availing fast cash loans is that they have simple qualifications. This offer makes it easier for Filipinos to qualify and avail themselves.
What are JuanHand Online Loan Requirements
If you want to avail JuanHand online loan service, you need to provide this.
And here is the list of Valid ID's that JuanHand accepts.
SSS
UMID
TIN
DRIVER'S LICENSE
PASSPORT
POSTAL
PRC
VOTER'S ID
And that's it! No more and No Less.
Another advantage of online fast cash loans is that they don't ask or require lots of requirements. Sometimes one (1) valid ID is enough, and only a few ask for more requirements (which is also optional). That is why availing of a loan here is not that hard, and many Filipinos like to avail of a loan here despite high-interest rates and short terms.
That is also one reason why online lending that offers fast cash doesn't offer a high loanable amount, and they have short terms. Unlike bank loans that require lots of requirements but they offer higher loan amounts and longer loan tenor.
How to apply for JuanHand Online Loan
Since JuanHand is a Fintech platform, that only means that their loan application is 100% online. No need to go out, and you can apply in the comfort of your home. It is also convenient, especially during this pandemic where going out is risky.
This also means that JuanHand online loan service is available wherever you are. As long as you have a gadget prepared and a stable internet or data connection, then you are good to go.
JuanHand online loan has a mobile app available at Google Play Store for Android and App Store for IOS.
If you are using an android phone, you can click here for the JuanHand online loan app. If you are using an IOS, then click here for the JuanHand online loan app.
Now we will show you the steps on how to apply at JuanHand. Download first the JuanHand mobile app so that you can follow along. Let's start!
Step 1 OTP
When you open the JuanHand online loan app, the first thing that they will ask is your Mobile Number. Click "Let's Go" after you provide your mobile number.
Note: Provide you active and own mobile number to avoid future problems.
Step 2 Sign Up
JuanHand will send your OTP or Verification code to your registered number. It may take a while but not for long, so just wait.
After that, you set your own and unique password.
After filling in the information below, click that small box behind "I have read and agree to the Service Agreement. Then click Sign Up.
Step 3 Complete Online Form
Here, little boxes will appear. You will choose whether to deny or allow JuanHand access your device. If you are hesitant to give those details, you can cancel and click deny, but if you want to proceed with your loan process, click allow.
After that, you will provide your personal information. You will give the following information.
Purpose of Loan
Education level
Number of Children
Residential Address
Input Complete Address ( Make sure that your address here is the same as the address in your ID, for a higher chance of approval)
Present Address Length of Stay
Address Type (If it is company provided, mortgaged, if your the owner or your parents or rented)
Current Phone Usage Time (How long you have been using your mobile number)
Number of Credit Cards
Contact Information (Number should be active)
Email (Gmail account or Yahoo mail, not your Facebook account)
WORK INFO
Job Occupation
Company Name
Company Phone Number
Monthly Income
Current Company Working Hours
Payroll Period
Payday
Click SUBMIT after filling out all the information.
Step 4 EMERGENCY CONTACT
Here you will input the contact information of your References. These are the person JuanHand will call if ever they can't contact you, especially during payment collection.
Make sure you choose wisely and inform these persons that you make them as your references. Much better you select those who are close to you or a family member. These persons' contact numbers must also be available on your phone number, or else JuanHand will not accept that.
You will put five (5) references here. Don't leave a blank and fill out all information.
Step 5 VERIFICATION
Here you will take a selfie of yourself. Make sure you are in a well-lighted room and choose a plain background so that the camera will focus on you.
Next, you will provide your ID information and its photo.
Note: Well captured photo means a higher chance of approval. Make sure that the information on your ID is clear and not blurred. Choose also a white or light plain background for your ID photo.
Below you will provide personal info like your name, gender, date of birth, and marital status. This information should be the same as seen on your ID.
After filling out all the information. Click SUBMIT
After that, the evaluation will proceed and just wait for it to finish.
Step 6 Withdraw
After clicking SUBMIT, evaluation of your information will proceed.
And after that, this will appear. Here you can select the amount you want to loan and the loan term. Click BORROW NOW to proceed.
The breakdown of your loan details is indicated here. As you can see, even though your loan amount is P2,500.00, you can't get the exact loan amount.
JuanHand has a one-time sign fee and a service fee (per transaction) with a minimum of 10% and a maximum of 20%, which will be deducted from your loan proceed. For more details of the service fee, click the (?) button on the same page.
If you are not satisfied with the result, you can click cancel or close the app to stop the loan process. But if this is okay with you, then you can click that small box (I have read and agree to the Loan Agreement) below to proceed.
Step 7 Approval and Disbursement
At this part, experiences may differ from each other. Others experienced fast approval, but it may not for you or vise versa.
On the JuanHand online loan website, they said that approval and evaluation of your application might take 1-2 working days. Patience is the key here.
After approval, your money will be disbursed at your desired cash-out option in under 5 mins.
Note: Due to pandemic, approval or disbursement of the loan may take longer than expected.
If you want detailed instructions, you can also watch this video tutorial on applying at JuanHand online loan app.
When and How to get your money after approval
As we had said earlier, after approval, JuanHand online loan will disburse your money to your preferred cash-out option in under 5mins.
Note: But don't expect too much, LOL. Due to different circumstances, the disbursement of your money may take longer than expected. Sometimes it might take hours or days. But if you think you have waited long enough, don't hesitate to contact JuanHand and tell them your concern.
There are three ways to get your money here at JuanHand.
It could be through:
GCash
Coins.PH
Padala Centers (RD Pawnshop and M. Lhuillier)
Good thing you don't need a bank account here at JuanHand. So if you are one of those Filipinos who doesn't have a bank account yet, you shouldn't worry.
But if you wish to have and open a bank account. Then why not! CIMB Bank created a mobile app where you can open a bank account and even do it online! You can click here if you want to open and make a bank account. You can also apply for their loan available at their mobile app.
How and Where to pay JuanHand Online Loan
For repayment, you can choose below what is the most convenient for you.
You can pay through:
7-Eleven
GCash
RD Pawnshop
M. Lhuillier
Don't forget to bring your Valid ID with you during repayment and prepare your repayment code (provided by JuanHand).
What do other people say about JuanHand Online Loan service
These are the thoughts and reviews shared by those who had experienced JuanHand online loan service. We choose the latest reviews to give you the newest update of JuanHand performance. We also select both negative and positive comments to be transparent.
The personal data of the persons above are covered to protect their privacy.
Visit JuanHand app at Google Play Store or JuanHand Facebook Page if you want to read more reviews about JuanHand loan service and performance.
For queries and more information about the JuanHand service, you can contact their Customer Service Representative (CSR) or visit their website www.juanhand.com. You can also send them an email or message them on their Facebook page.
CSR: (0998) 374 0824/ (0927) 025 6883
Email: cs@juanhand.com
JuanHand is online daily, from 9:00 AM – 6:00 PM.
Source: JuanHand Website, JuanHand App at Google Play Store, JuanHand Facebook Page
---